Profile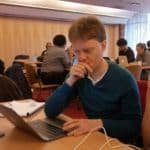 James M Monk
My CV
Education

Enfield Grammar School, 1991-1998

Qualifications

1998-2002: UCL and 2002-2005: The University of Manchester, Physics

Current Job

Employer
About Me:

Former CERN physicist turned machine learning researcher.

Read more

I live in Copenhagen in a small flat by the sea.  I originally moved here from London to work at the Niels Bohr Institute on CERN's Large Hadron Collider, then I met someone nice and decided to stay for a bit longer.  Now I work for a technology startup that uses AI for automated website and webapp code generation from hand drawn images.

So far I've lived in three different countries and worked in five.  I love skiing and taking pictures, sometimes even at the same time.

My Work:

Former CERN particle physicist who now works for a tech startup on algorithms and models for turning pictures into computer code.

Read more

My previous scientific work was focussed around developing and running models of proton collisions for the ATLAS experiment at CERN's LHC.  For some flavour of what that was like, you can read some very intermittent blog posts by me here: https://twoev.wordpress.com/2020/03/19/modelling-the-invisible-part-of-the-cross-section/

Using Wavelets to Remove Pile-Up at the LHC

In my current work at Uizard I have been developing models to work out how objects on a web page are related and grouped with other objects on a web page.  For one of many ideas about how ideas from deep learning apply in both physics and image manipulation, read another blog post here: https://twoev.wordpress.com/2018/10/08/a-deep-learning-parton-shower-in-fewer-than-100-lines-of-python/
My Interview

Were you ever in trouble at school?

Not really

Who is your favourite singer or band?

You're allowed at least 10 favourite bands, right? The Flaming Lips, The Magnetic Fields, Joy Division, Andrew Bird, Animal Collective, Stereolab…

What is the most fun thing you've done?

I once drove a 1985 Renault 5 worth £150 from London to and then across the Sahara desert.
My profile link:
https://ias.im/u.9635